Welcome to our page on the new school website. School Councillors are elected by pupils in their class at the start of the year and every class has a School Councillor to represent their class. We are the School Council representatives for 2016-17:
RA – Aiza Rehman
RB – Honey Mahmood
1A – Ahmed Efhil
1B – Mohammed Luqman
2A – Anayah Wright
2B – Kane Durkin
3A – Sufyan Hussain
3B – Yusuf Khan
4A – Abdulrhman Efhil
4B – Laiba Uddin
5A – Bisma Tasadaq
5B – Eshal Ahmed
6A – Ethan Harrison
6B – Chloe Shoer
How Do You Become A School Councillor?
To become a School Council Representative, you will need to complete a nomination form explaining why you will be a good representative for your class. You will them need to put together a short presentation saying what you hope to achieve as a School Council Representative and answer questions from people in your class. After all the presentations, your class mates will vote on their preferred Councillor in a secret ballot. The person with the highest number of votes becomes the class School Councillor and the person with the second most number of votes becomes the reserve.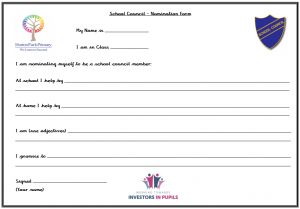 What Does The School Council Do?
We meet every Wednesday from 8:30am for 15 minutes. We think of ways to improve our school with the help of Mr Khan. The Chair is Chloe from 6B Lapachos and she reads the agenda and makes sure the meetings run smoothly. Laiba, from class 4B Acacia, is the Minute Taker. She takes the register as well as writing down what has been agreed.
As School Council representatives, we listen to the ideas of pupils in our class and across school who make suggestions on how to make Horton Park an even better plan. We then discuss these ideas and think of ways of making it happen.
What Have We Achieved This Year?
Launched Investors in Pupils in a whole-school assembly at the start of the year.
Created a whole-school induction booklet for new pupils, staff and visitors.
Introduced new evaluation forms which we complete after every lesson: Top Tips, Self-Evaluation and Peer-Evaluation forms.
Agreed the ICT Code of Conduct and Acceptable Use Policy. We then asked all the pupils in our classes to sign both forms.
Helped out with Winter Fayre.
Investigated the roles of staff, parents and Governors and created a 'School of Suspects' book.
Launched the 'Fuel for School' project with SCOFF representatives.
Interviewed the Junior National, European and World Champion, Tom Pidcock in March, who opened our new school field, the Community Learning Zone.
Carried out our first 'Pupil Takeover Day' in April 2017.
What Are We Currently Working On?
We are currently working on new playground markings as well as finding ways to use the Community Learning Zone for the benefit of all of Canterbury's residents. We will also be helping out at the Summer Fayre on 22nd July 2017.
To keep up-to-date with what we are doing, please speak to your class representative and read our notice board outside the Large Hall which displays the weekly agenda and meeting minutes.